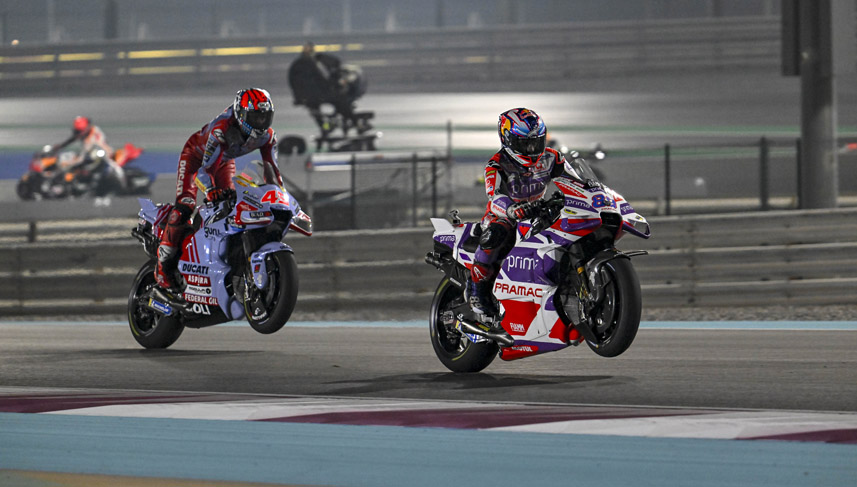 Jorge Martin secures P1 in Qatar's first Tissot Sprint Race at MotoGP™ Qatar Airways Grand Prix Of Qatar 2023
LUSAIL, QATAR — 18 November 2023 — The second day of the race weekend welcomed excited motosport fans and enthusiastic teams in anticipation of a thrilling competition. Today marks a historical milestone for the MotoGP™ Qatar Airways Grand Prix of Qatar 2023, as the Lusail International Circuit (LIC) hosted its first-ever Tissot sprint race. Moreover, Abdulrahman bin Abdul Latif Al Mannai, the Chairman of the Qatar Motor and Motorcycle Federation (QMMF) and President of Lusail International Circuit (LIC) warmly welcomed all participating team principles.
The race schedule started off with the qualifying round of the Idemitsu Asia Talent Cup. The young riders' performance in this round determined their grid position in the coming races. Veda Pratama from Indonesia secured P1 and won race 1 of the championship.
The qualification rounds were followed by practice sessions for MotoGPTM, Moto2TM and Moto3TM. Johann Zarco from Prima Pramac Racing in MotoGPTM category clocked the fastest lap time with 1 minute 52 seconds in Q1. The overall qualification lineup for Tissot Sprint Race Saturday and Sunday's final race will have Luca Marini from the Mooney VR46 Racing Team in P1 and Fabio Di Giannantonio (Gresini Ducati), Alex Marquez (Gresini Ducati) in P2 and P3.
Fermin Aldeguer, Moto2TM rider from SpeedUp racing team, broke yet another record with a lightning lap time of 1m, 57.43s with 281 km/h top speed. The record was later taken by Celestino Vietti from Fantic Racing (01m, 57.56s) and then Joe Roberts Italtrans Racing Team. The final record break by Joe Roberts was timed to be 01m, 57.30s and it earned him pole position.
The overall qualifying rounds' results of Moto3TM were Daniel Holgado (Red Bull KTM Tech3), Diogo Moreira (MT Helmets) and Deniz Öncü (Red Bull KTM Ajo) in first, second and third positions respectively. The quickest lap taken in the practice session of Moto3TM was by Daniel Holgado totalling 2m 4.742s with top speed of 239.4 km/h.
Ending the night, under the iconic Lusail floodlights, MotoGPTM riders took the track and competed in the first-ever Tissot Sprint Race. Jorge Martin from Prima Pramac Racing finished strong and took the podium at P1 followed by Fabio Di Giannantonio from Gresini Racing MotoGP™ and Luca Marini from Mooney VR46 Racing Team in P2 and P3 respectively. During the Paddock celebrations, Abdulrahman bin Abdul Latif Al Mannai, Chairman of QMMF and President of LIC, presented medals to the winners on the podium.
Amidst the vibrant atmosphere of the Fan Zone, where cheers filled the air, Michael Hill, the official host of MotoGP™, mingled with the fans, asking about their thrilling experiences and some lucky fans also got their hands on official LIC merchandise.
The Sunday race will have a lot to offer, top performing riders from Moto3TM, Moto2TM and QatarGP will take the podium and be named winners of MotoGP™ Qatar Airways Grand Prix Of Qatar 2023; we will also see which young rider wins Race 2 of the Idemitsu Asia Talent Cup. On Sunday, first 500 spectators to enter the Lusail International Circuit will get a chance to experience the Hero Walk which is situated along the riders' route to the MotoGP™ Paddock, they will sign autographs and celebrate alongside cheering fans.
Follow Lusail International Circuit for more information:
X: @lusailcircuit
Instagram: @lusailcircuit
Facebook: @Lusail Circuit Sports Club
– ENDS –