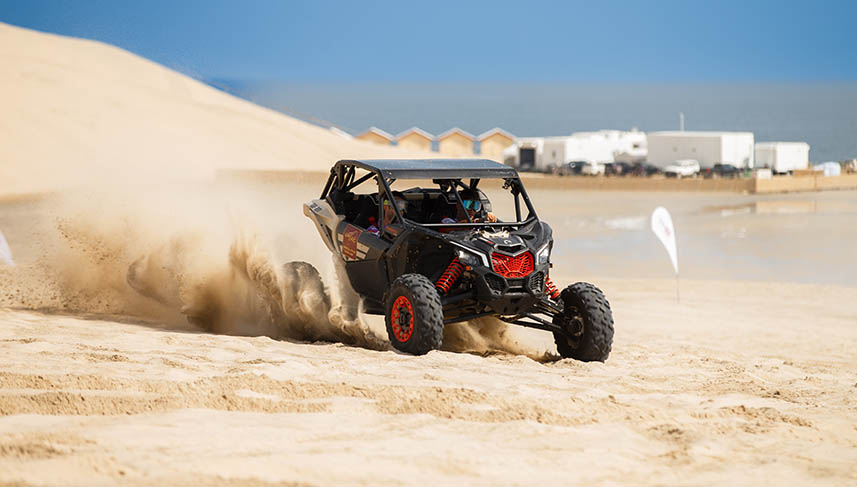 MotoGP™ Qatar Grand Prix 2023 welcomes riders with Racing and Cultural activities ahead of the Grand Prix
Doha, Qatar, 15 November 2023 – Dorna Sports and Lusail International Circuit organized exciting pre-event activities with a desert activation held at the Nasser Rally Camp near the beautiful dunes of Qatar ahead of MotoGP™ Qatar Airways Grand Prix of Qatar 2023. This thrilling event brought together some of the biggest names in MotoGP™, such as Pedro Acosta, Alexis Espargaró, and Jorge Martin, joined by Qatari rally legend Nasser Al-Attiyah.
Using a combination of flags and trenches, a miniature version of the circuit was crafted, providing a unique and captivating visual experience in the dunes. Nasser Al-Attiyah, a legend in the world of rally racing, took part in a thrilling buggy race alongside the MotoGPTM riders. Teams were formed, and they raced around the mini version of the Lusail International Circuit set amidst the desert dunes replicating the upcoming Grand Prix.
In addition to the buggy race, an exciting "Arabic Challenge" added a cultural twist to the event. The MotoGPTM riders were presented with their names written in Arabic on a mini whiteboard. They were given 30 seconds to study the script, and then they had to reproduce their names in Arabic from memory on the whiteboard. This challenge not only tested their memory but also celebrated the rich culture and heritage of Qatar.
The highlight of the day was the "Time Trial of the Mini Lusail Circuit," where each team went head-to-head to set the fastest lap time on the miniature circuit. The competition was fierce, and the riders' determination was palpable as they navigated the challenging terrain.
The MotoGP™ Qatar Airways Grand Prix of Qatar 2023 is just around the corner set to bring the best of the sport as well as the Tissot Sprint Race for the first time at the Lusail International Circuit.
Book your tickets now at the official LIC website
For more updates on MotoGPTM, follow Lusail International Circuit:
X: @lusailcircuit
Instagram: @lusailcircuit
Facebook: @Lusail Circuit Sports Club
– ENDS –