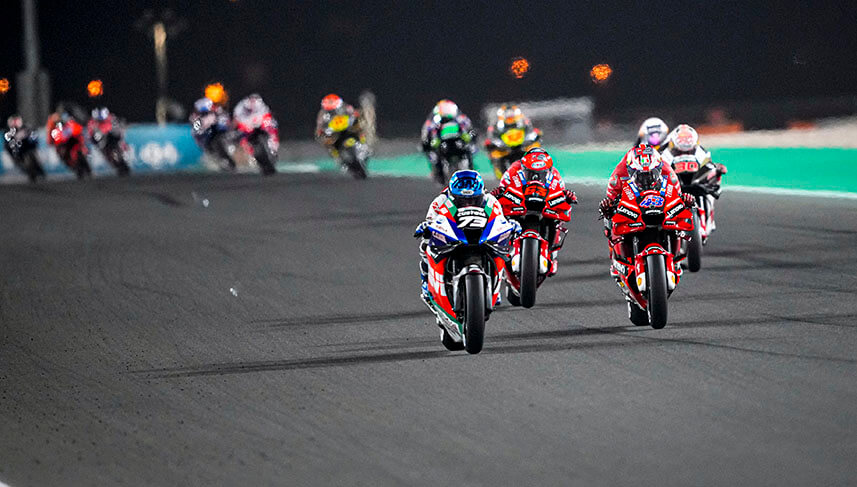 Lusail International Circuit to host Qatar's first-ever Tissot sprint race at the MotoGP™ Qatar Airways Grand Prix of Qatar 2023
Doha, Qatar, 13 November 2023 - Anticipation is building across the region as the MotoGP™ Qatar Airways Grand Prix of Qatar 2023 gets set to return to Lusail International Circuit (LIC) in just 4 days.
The high-octane weekend of racing, taking place from Friday November 17 to Sunday November 19, will see motorsport teams and fans from all over the world descend on Qatar for an adrenaline-fuelled weekend of motorsport.
And that's not all - for the first time ever, Qatar will play host to MotoGPTM's new sprint race, a thrilling new Saturday afternoon addition to the 2023 racing calendar.
What is the MotoGP™ Tissot sprint race?
Adding a new level of excitement for riders and spectators alike, the fast and furious sprint battle sees competitors going head-to-head in a race which runs half the distance of Sunday's Grand Prix. The top nine finishers will be competing for up to 12 world championship points: P1-12 points, P2-9 points, P3-6 points, P4-5 points, P5-4 points, P6-3 points, P7-2 points, P8-1 point.
Grid positions for the sprint are based on the results of the morning's two qualifying sessions, with Sunday's main race also set to feature the same grid.
How does racing break down across the three-day weekend?
Friday:

Free Practice 1 (45 mins) followed by Practice (60 mins) where riders are timed for entry into Q2.

Saturday:

Free Practice 2 (30 mins); Qualifying 1 (15 mins); Qualifying 2 (15 mins); MotoGP™ Sprint.

Sunday:

Warm Up (10 mins), Grand Prix race.
Are the technical rules different for MotoGPTM sprint race?
While most current regulations will remain in place for the sprint race as they would for the main Grand Prix, there are some differences for superfans to be aware of:
Fuel loads will be limited to an allowance of 12 liters for the sprint instead of the 22 liters allowed for the grand prix.
Track limits rules have also been adjusted for the sprint race, with the number of allowed infringements before a penalty, being cut from five to three.

Any penalty awarded in a sprint race that cannot be served immediately will be carried into the main Grand Prix.
Racegoers can be a part of the action by purchasing tickets available in the Main Grandstand or General Admission with access to Lusail Hill. For attendees wanting to take their race weekend experience up a notch, premier hospitality packages are available with various unique opportunities like Pit Lane walks and Paddock access.
Tickets and hospitality packages can be purchased online for the entire race weekend, two-day access or for single-day access on the official Lusail International Circuit Website
Tickets allow access to the MotoGPTM Fan Zone with its host of activities for adults and children, access to MotoGPTM merchandising outlets, use of complimentary return shuttles between Lusail Metro Station to the circuit as well as easy access to free parking and taxi pick-up and drop-off zone.
Don't miss out on MotoGP™ Qatar Airways Grand Prix of Qatar 2023 which is the only night race in the MotoGPTM calendar and marks the latest installment in nearly two decades of hosting the championships in Qatar.
For more information visit the Lusail International Circuit's official website and explore all hospitality options here.
-ENDS-