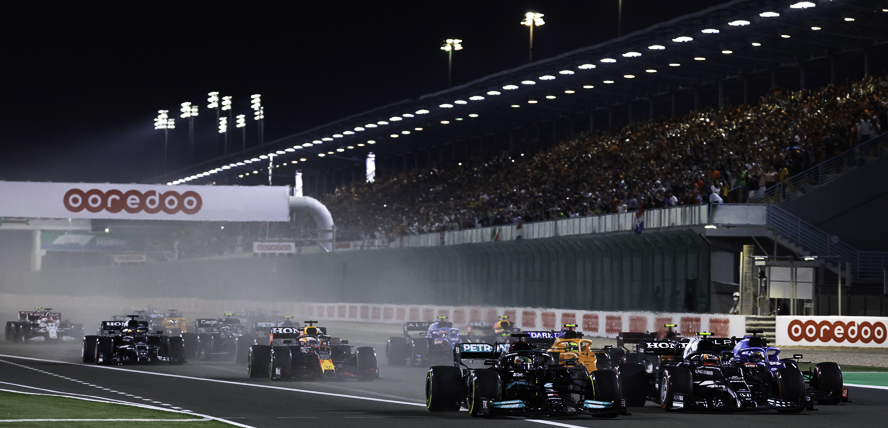 F1 ANNOUNCES THAT QATAR IS TO HOST ONE OF 6 SPRINT EVENTS ACROSS THE WORLD
December 8th 2022, Doha, Qatar – Qatar Motor & Motorcycle Federation (QMMF) recently announced that Qatar will be hosting one of six F1 sprint events set to take place in 2023's season of the championship, with the 5 remaining sprint qualifying races taking place in Azerbaijan, Austria, Belgium,the United States and Brazil.
In 2021, F1 decided to shake up tradition by adding sprint races to its arsenal, and the idea was quite simple: overtakes are the most exciting part of F1 races, so let's add shorter races at one-third of the distance of the Grand Prix with no pit stops, this way we introduce a more action-packed event where everyone wins. Starting off with 3 sessions in 2021, the format proved to be a big success, and so for the upcoming season in 2023, F1 decided to double the number of sprint races that are included in the event. The format simply works, as in 2022, the Austrian sprint event had a 39% increase in audience compared with qualifying at the same race the year before.
Due to the compact nature of the sprint-racing format as a 100km qualifying dash with no mandatory pit stops and drivers racing flat-out to the chequered flag to claim a leading position in the upcoming day's round, Lusail International Circuit counts as an ideal venue to host the event, and as such, after a long and thorough analysis of worldwide options, the F1, after coordinating efforts with Qatar Motor & Motorcycle Federation (QMMF), chose the track as one of six to host the sprint events scheduled for 2023's F1 season, alongside Azerbaijan's Baku City Circuit, Austria's Red Bull Ring, Belgium's Spa-Francorchamps, US's Circuit of The Americas, and Sao Paulo's Interlagos.
The F1 racing extravaganza will be coming to Lusail Circuit in Qatar from the 6th to the 8th of October, with the exhilarating sprint race qualifier taking place for the first time under the iconic floodlights of Lusail Circuit Sports Club on the 7th, and the standard F1 format that everyone's familiar with landing on the 8th, offering racing fans worldwide a wide variety of options to satisfy their Need for Speed.
The selection of Qatar as one of the countries to host this new exciting F1 racing format event counts as a major step forward towards the achievement of the goals of Qatar National Vision 2030 which aims to position the country as a global hub for world class sporting events, and to bring people closer together through sustainable sports development and by leveraging the passion shared for sports of all kinds worldwide.
Those wanting to find out more about the event or to book their tickets may visit Lusail Circuit Sports Club's website lcsc.qa