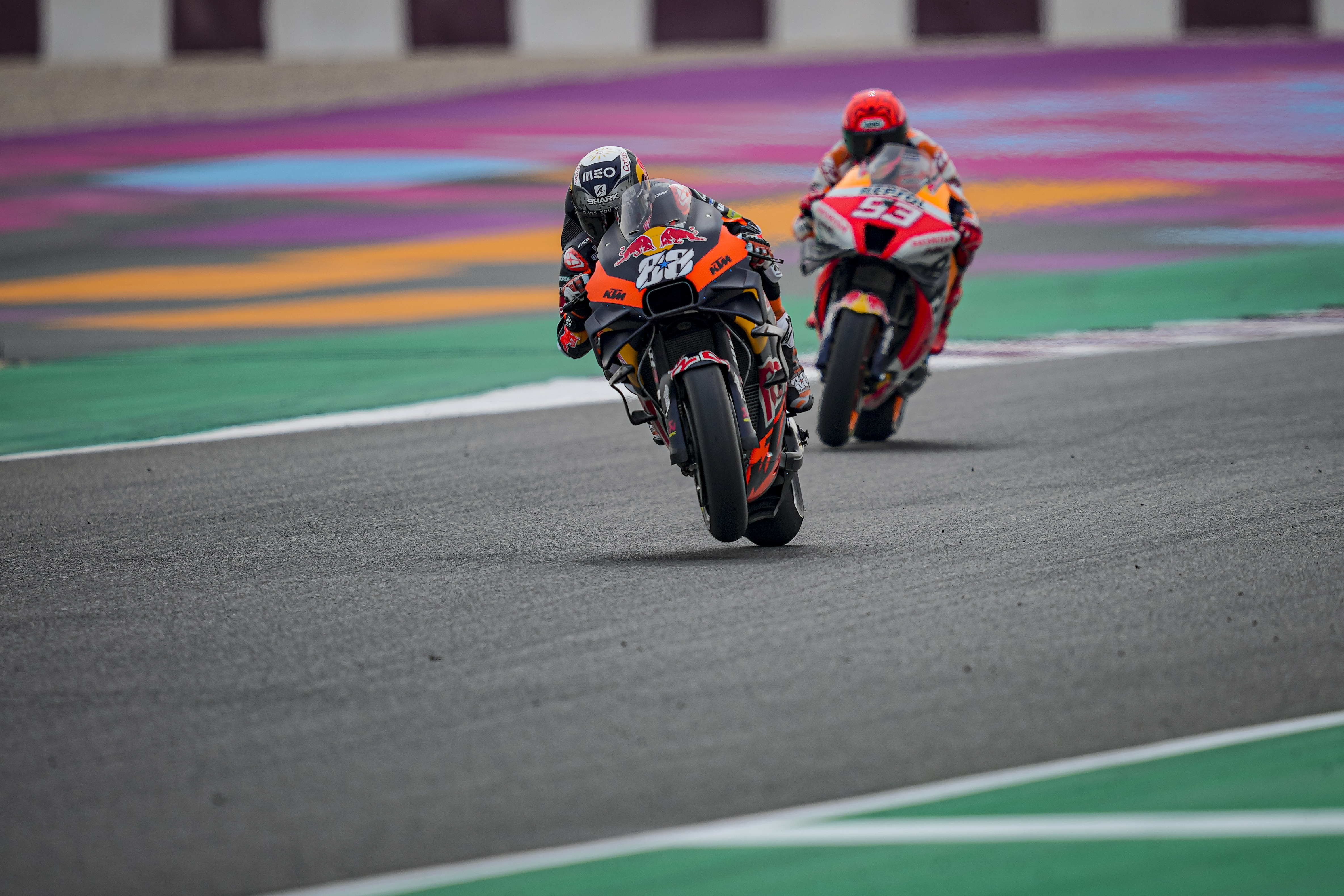 Day 2 of the Grand Prix of Qatar: a Symphony Starting with the Roar of Wide-open Motorbike Throttles
Saturday, March 5th, 2022, Doha, Qatar With practice rounds out of the way, racers pick up the pace during the qualifiers for an action-packed day While Friday was nothing short of a gripping day that took fans through a rollercoaster of surprises and unexpected outcomes, the second day of the Grand Prix of Qatar managed to deliver even more excitement and had a lot of fans sitting at the edge of their seats. Saturday's event kicked off with the qualifying round of the Idemitsu Asia Talent Cup and after FP3 of Moto3, Moto2 and MotoGP, the first 14-lap race of the Cup took place with the host country's promising talent Hamad Al-Sohouti managing to place 4th with a total timing of 30m58.356s, while a Japanese presence reigned over the top 3 spots with Shinya Ezawa placing 1st at a total time of 30m56.629s, Gun Mie placing 2nd at 30m56.669s, and Amon Odaki who was leading over his fellow Japanese racers on Friday in FP1 and FP2 placing 3rd at 30m56.688s. Commenting on his performance, H. Al-Sahouti said: "it was a tough race as I had to start from the 10th position, but luckily with a lot of composure and focus I managed to place 4th and score the fastest lap. Overall, I'm feeling very optimistic about tomorrow's event and hopefully I'll be able to perform even better than I did today." Conversely, the events of Moto3 took an unexpected turn as Izan Guevara (Gaviota GASGAS Aspar Team) managed to snatch the pole position by scoring a timing of 2m04.811s after leaving late, marking a first in his World Championship career. Fans were very surprised as Ayumu Sasaki (Sterilgarda Max Racing Team) has been setting the pace of the race after finishing fastest in Q1 with a healthy 0.5s lead. Ayumu ended up claiming a fantastic P2 with a timing of 2m04.896s in Q2, while Izan's fellow Spaniard Jaume Masia (Red Bull KTM Ajo) occupied P3 at 2m05.023s. In Moto2, a late-time cancellation of Sam Lowes' (ELF Marc VDS Racing Team) lap moved Celestino Vietti (Mooney VR46 Racing Team) to pole position after the young Italian racer blazed through his final lap topping 1m59.082s, while Lowe's teammate Tony Arbolino took P2 with a timing of 1m59.194s. However, the cancelled lap didn't manage to keep last year's double Qatar Moto2 race winner out of the top 3 positions as he occupied P3 at 1m59.226s. Finally, the main racing event of the day, Q2 of MotoGP, saw the young Spaniard Jorge Martin take the top position on his Pramac Ducati with a time of 1m53.011s, claiming the fifth pole of his MotoGP career. Martin pulled ahead of team Gresini's Enea Bastianini and his 2021-speced Ducati who took P2 at 1m53.158s, while 6-time world champion Marc Marquez completed the race in P3 riding his Honda RC213V with a timing of 1m53.283s. Reigning champion Fabio Quartararo left the race slightly disappointed after what he described as a "tough" qualification placing 11th from the maiden pole.
The overall atmosphere of the event was quite similar to Friday with additional varieties and options of dishes presented at the food courts and more merchandize made available for purchase by fans at the various stands spread across the venue. The MotoGP exhibition meant to give a brief historical overview of the sport through graffiti art caught a lot of attention from fans, and many of them praised the artwork's bold choice of colors and the contrast between the parts describing the sport's early beginnings and its current status as a global sports mega-phenomenon. The Special Moto Exhibition which was primarily organized for veteran fans of the sport ended up catching the curiosity of all sorts of spectators with the classical, sturdy and elegant design of the 20 legendary vehicle models that were put on display, and many stood mesmerized as they watched the 3D printing and painting of 3 live-sized motorbikes happen in real time. If there's anything to learn from the difference between the results of Friday's free practice rounds versus Saturday's qualifiers, it's the fact that there is no telling how exactly the races that will be held on Sunday (6 PM local time) will end. For those interested in watching the open for one of the most competitive MotoGP seasons to have been hosted to date, you may book your tickets at tickets.lcsc.qa.