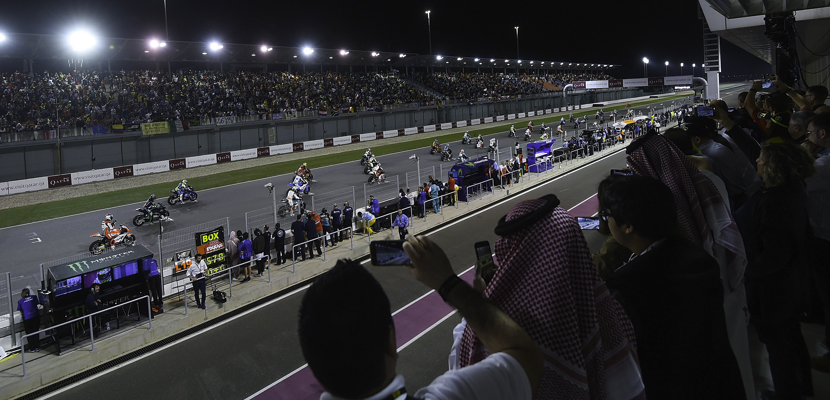 Fan Excitement Peaks as the Activities Accompanying the 2022 MotoGP World Championship Season Open Are Finally Revealed
As the grand event continues to garner a lot of attention and momentum, organizers finally reveal the list of activities that will accompany this action-packed round of the championship
The initial announcement of the event was met with a lot of excitement, especially since the night round at Lusail Circuit Sports Club (LCSC) has a unique atmosphere that adds a lot of flavour to the action. With the date of the event drawing ever closer and fan anticipation reaching an all-time high, the organizers of the race to be held at the Lusail International Circuit from March 4th to March 6th finally chose to reveal the list of activities that will accompany the grand finale, and it was officially announced that the event will be divided into three parts:
A family friendly Friday during which kids under the age of 12 will be allowed to partake in the event and its various activities for free.

A memorable Sunday featuring a concert by the talented Bader Al-Shuaibi
Other activities which will accompany the event include the MotoGP Exhibition which will introduce those who are not very well acquainted with the sport to its historical background and most noteworthy aspects, the Special Moto Exhibition dedicated to devoted fans who will be able to access and take photos with over 20 legendary vehicle models, and a Graffiti Art segment during which 3 live-sized 3D motorbikes will be painted by local graffiti artists.
Berthold Trenkel, Chief Operating Officer of Qatar Tourism commented on the event by stating the following: "Qatar has been hosting the Motorcycle Grand Prix (MotoGP) for almost two decades, gathering residents and visitors from all over the region to come and watch the thrilling season opener. As the Strategic Partner, Qatar Tourism is proud to host the 20th race held at the state-of-the-art Lusail International Circuit where audiences will enjoy the races in dazzling floodlight and enjoy live music."
Tickets are now available for purchase starting QAR 200 (QAR 100 for kids), and those who haven't booked theirs yet can secure a spot by visiting the following link: tickets.lcsc.qa/