The FORMULA 1 racing will be coming to Lusail International Circuit in Qatar from the 6th to the 8th of October 2023, offering an exciting weekend for fans to witness the world's most elite drivers go head-to-head.
Friday: An ideal day for fans to enjoy their weekend with their loved ones at the fan zone and witness the exciting action of F1. Be one of the first to experience the fan zone and the state-of-the-art Lusail International Circuit, which is set to send chills down the spine.
Saturday: For the first time in the Middle East, witness fast-paced, adrenaline-pumping action with 'Sprint Race Saturday,' and kick-start the day with the Sprint Shootout that determines the starting grid of the 'Sprint Race,' a 100 km dash, where you can witness drivers go head-to-head, racing flat-out to the checkered flag with no pitstops.
Sunday: Take advantage of the final day of the F1 weekend and watch the qualifying drivers race their way to victory under the iconic floodlights of Lusail International Circuit, ending the night with a spectacular display of fireworks to celebrate the winners.
Experience F1 with Hospitality Packages: Elevate your F1 experience to new heights with our luxurious Hospitality packages. Immerse yourself in the world of F1 and enjoy premium perks and breathtaking views. See our exclusive Hospitality offers here.
The on-circuit action will be complemented by entertainment throughout. Whether you are coming for the day or for the weekend- we've got something for you! Secure your tickets now!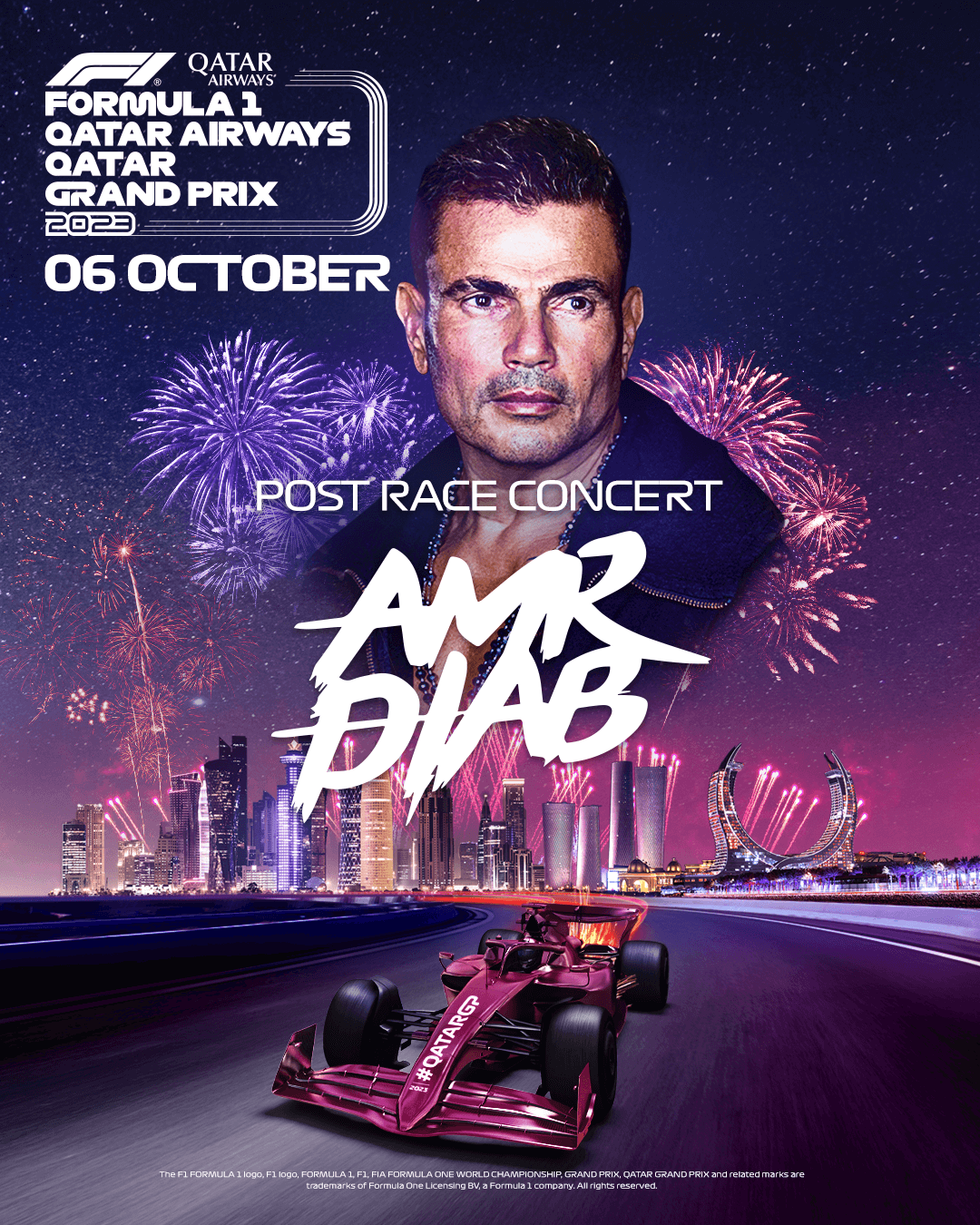 Friday 6th October
Record breaking Egyptian artist Amr Diab will dazzle audiences with a medley of his best-loved hits.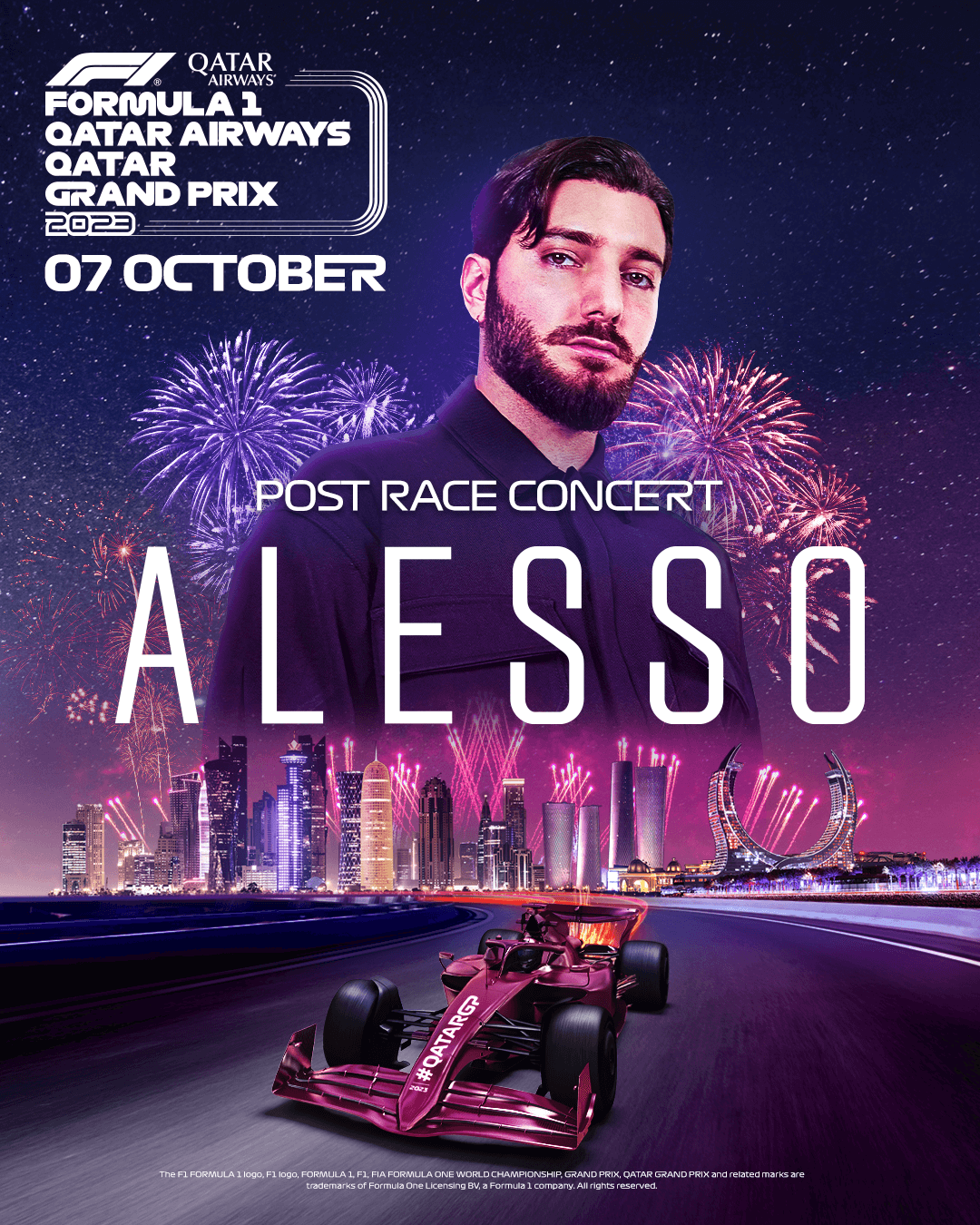 Saturday 7th October
Superstar Alesso will light up the stage with his world-renowned brand of music.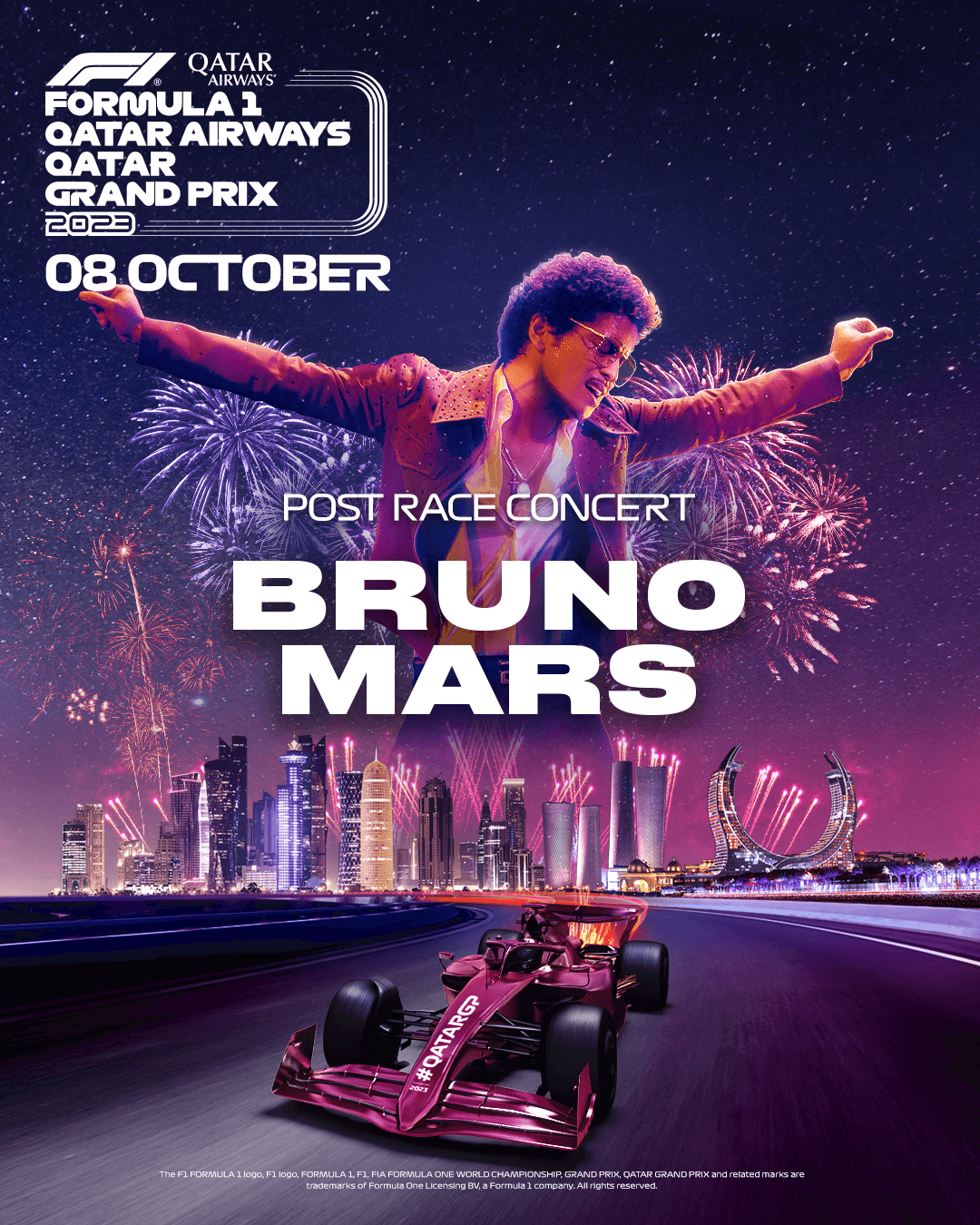 Sunday 8th October
The weekend's entertainment will finish in style with an exclusive performance from global megastar Bruno Mars.
---
سباق جائزة الخطوط الجوية القطرية الكبرى – قطر® للفورمولا-1 2023
في أجواء استثنائية من الترقب، ينتظر العالم بشغف احتضان حلبة لوسيل الدولية في قطر لسباقات الفورمولا-1 بين 6 و8 أكتوبر 2023، حيث ستكون الجماهير على موعد مع عطلة نهاية أسبوع مليئة بالإثارة والحماس ليشاهدوا عن قرب نخبة من أفضل سائقي العالم في منافسة محتدمة على الجائزة الكبرى.
الجمعة : سيكون مناسبة مثالية لقضاء أوقات ممتعة في أجواء الترفيه والحماس في منطقة المشجعين، وعيش أقصى درجات الإثارة مع سباقات الفومولا-1. انضموا إلينا لتكونوا أوّل من يختبر المنشآت المذهلة المطورة حديثاً لحلبة لوسيل الدولية والتي تقدّم تجربةً لا تنسى للمشجعين.
السبت : ولأول مرة في الشرق الأوسط، ستتمكن الجماهير من الحصول على جرعةٍ كبيرة من الإثارة والحماس واختبار أقصى حدود السرعة مع سباق "سبرينت" السريع، حيث يبدأ هذا اليوم الاستثنائي مع مع الجولة التأهيلية (سبرنت شوت اوت) لتحديد ترتيب الانطلاق في السباق القصير "سبرينت"، والذي يتنافس فيه السائقون وجهاً إلى وجه دون توقّف على مدار 100 كم من السرعة القصوى.
الأحد : انتهزوا هذه الفرصة الكبيرة واستمتعوا بآخر أيام الفورمولا-1 لمشاهدة المنافسات المشتعلة بين المتسابقين للحصول على الجائزة الكبرى، تحت الأضواء الكاشفة الشهيرة لحلبة لوسيل الدولية، ولتستمتعوا بعرض الألعاب النارية المذهل احتفالاً بالأبطال.
استمتعوا بالسباق كما لم تشاهدوه من قبل مع باقات الضيافة: يمكنكم الارتقاء بتجربة الفورمولا-1 إلى آفاقٍ جديدة من المتعة والراحة مع باقات الضيافة الفاخرة، والتي توفر لكم تجربة تفاعلية غامرة مع مجموعة كبيرة من الامتيازات الفارهة ومواقع الحضور المتميزة التي تخطف الأنفاس. يمكنكم الاطلاع على عروض الضيافة الحصرية على الرابط.
وإلى جانب المنافسات المشتعلة والإثارة القصوى على الحلبة، تستمتع الجماهير بالكثير من العروض الترفيهية الممتعة على مدار الأيام الثلاثة، فسواء قررتم الحضور ليوم واحد أو الاستمتاع بعطلة نهاية الأسبوع كاملةً، فبالتأكيد هنالك شيءٌ خاصّ لكم بانتظاركم! سارعوا للحصول على تذاكركم الآن!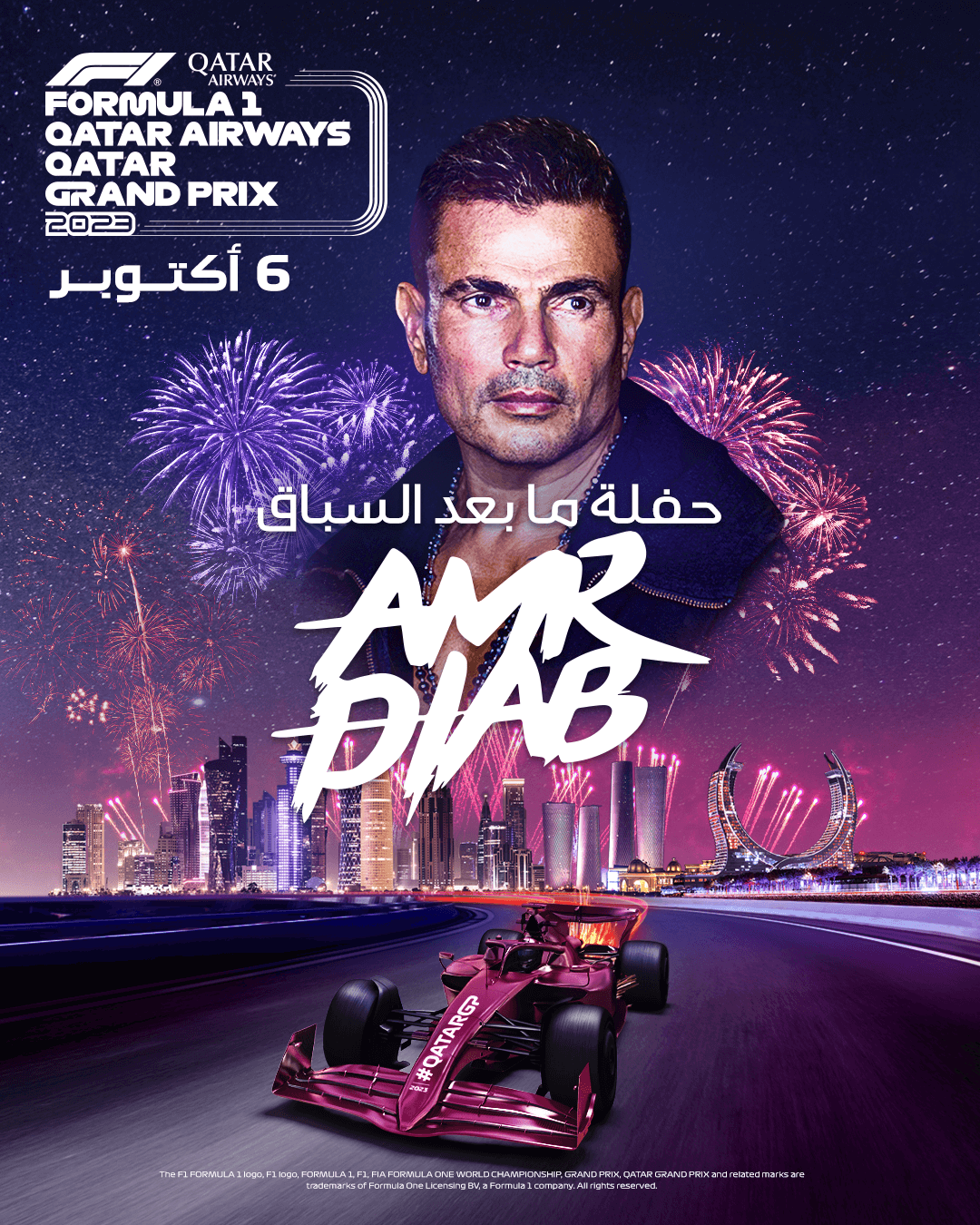 الجمعة 6 أكتوبر
سيبهر الفنان المصري عمرو دياب، محطم الأرقام القياسية، الجماهير بمجموعة من أفضل أغانيه المحبوبة.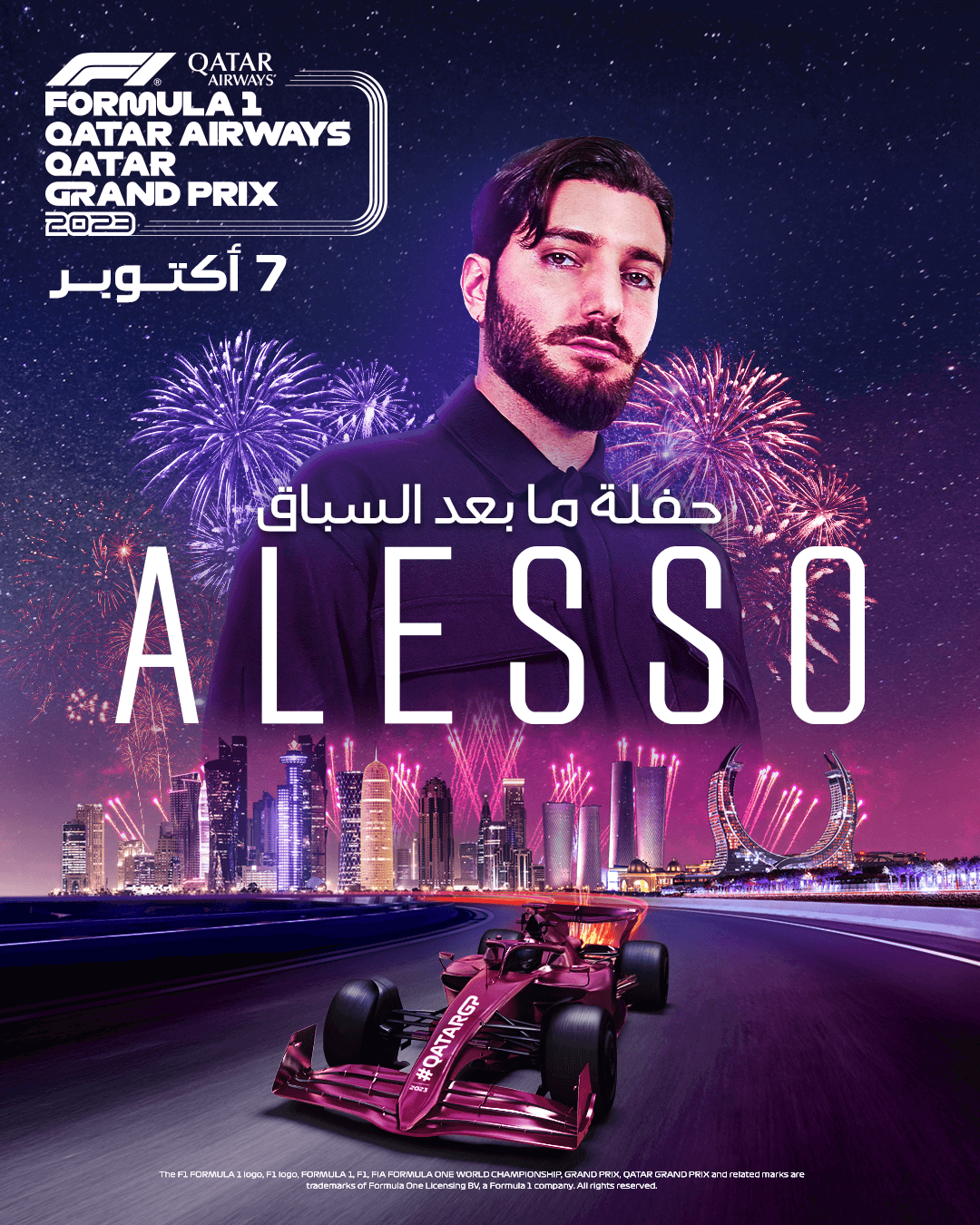 السبت 7 أكتوبر
سوف يشعل النجم اللامع أليسو أجواء الحماس على المسرح بتشكيلته الموسيقية العالمية الشهيرة.
الأحد 8 أكتوبر
سوف تنتهي الفعاليات الترفيهية التي تقام خلال عطلة نهاية الأسبوع بطريقة مميزة مع العرض الحصري الذي يقدمه النجم العالمي الكبير برونو مارس.
FIND YOUR TICKETS
HOSPITALITY